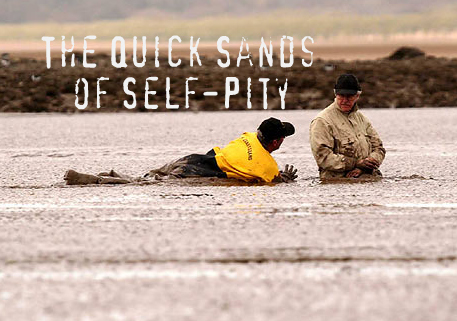 There's a difference between grief, sadness, and depression,
 and falling into the quick sands of self-pity.
Depression is being consumed with sadness- self pity is being consumed with our SELF.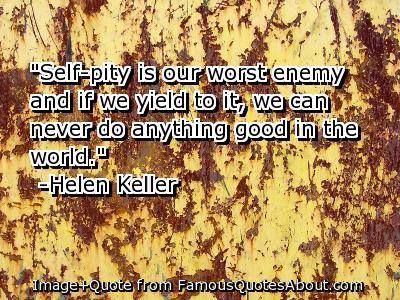 After our daughter, Kristin, died, I traveled through the darkness of depression but that eventually gave way to self pity.  I remember calling my Aunt and saying,  "I just can't seem to shake myself out of this funk.  I can't quit thinking about WHY this had to happen to us."
So sweetly she said, "Well, when I'm stuck feeling sorry for myself, I ask the Lord to show me people who are worse off than me.  Then I get busy and do something for them."
Wow!
Get my eyes off myself and look for someone to encourage.
When we indulge in self-pity, we have suddenly elevated our importance and our own suffering in our own eyes. We think no one has it as bad as us!  Romans 12:3 says, "Do not think of yourself more highly than you ought."
Another way out of the pit of self pity is to pray and praise!
Is anyone among you suffering? Let him pray. Is anyone cheerful? Let him sing praise.  James 5:13
Reminding ourselves of our Hope in God can lift us out of the pit of self-pity
Why are you in despair, O my soul? And why are you disturbed within me? Hope in God, for I shall again praise Him, The help of my countenance and my God.  Psalm 43:5
The battle with self pity is fought by what our mind and heart fixes itself upon!
The way to avoid the quick sand of self pity- is to keep our mind and heart fixed on the mercies of God.
Therefore, preparing your minds for action, and being sober-minded, set your hope fully on the grace that will be brought to you at the revelation of Jesus Christ. I Peter 1:13

TO GET OUT OF the SELF PITY PIT
I have to take my eyes off ME and put them on the ONE who has the answers!
He lifted me out of the pit of despair, out of the mud and the mire. He set my feet on solid ground and steadied me as I walked along.
Psalm 40:2 NLT

Have you seen the movie- The Croods? What a fun movie. There comes a scene where Grug and Guy become trapped in a tar pit, (much like quicksand) There is absolutely no way they will be able to escape.  Death is inevitable. Guy knows this for a fact- he watched his parents slowly be sucked under by its relentless pull.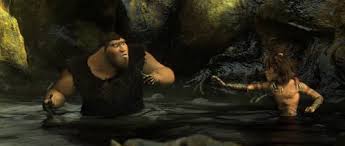 And then they g0t a brilliant idea! They realized they were helpless but they weren't hopeless!
They didn't have to stay in the pit if someone- or something that is bigger than them could be enticed to use their strength to pull them free.  That was their only hope for escape.
We need to realize- we can't stay in the pit if we want to live! We need to call out to SomeOne, with greater power and strength- SomeOne who is NOT stuck!  And I promise that SomeOne – God- will lift us out of the pit and sets us on the Rock.



I will call on His Name and He will come & rescue me!  Whoever calls on the name of the Lord- SHALL be saved.  Romans 10:13, Acts 2:21

Hi, I'm Cindy- 36 years of livin' with my prince charming, Jeff. I'm a HOME MAKER- not a house wife! a Memory Maker, Proud Mama of 7; and Joyful Nana to 11 & counting! :)I love serving God with Jeff- who is a pastor. I long to shine bright for Jesus and I'm daily amazed by the depths of God's love.

I love reading, home schooling, encouraging others, playing the piano, worshiping, dating my husband, and planning parties and retreats for our clan.

Someday, I really, really want a horse and learn to play the cello and viola.
Latest posts by Cindy Barclay (see all)