"I want Daddy to stay home from work.  I want to be with him all times.  "If Bethie has said this once, she's said it at least 50 times the last 2 weeks. She's her Daddy's girl.  He's been quite busy lately and she's quite determined, even fixated on having fun with her Dad. From biking to climbing Pike's Peak, from going to movies, swimming, or road trips, all our kids would vote Jeff as the "most fun Dad" who always finds ways to spend time with them and the family.
This last weekend was the much anticipated highlight for Bethany- the Daddy-Daughter Ball.  That's all she talked about for a week before! She kept asking, "Mom, where am I going this weekend?" I'd smile and say, "I don't know."  She'd yell, "I'm going to the Daddy-Daughter Ball with my Dad!!!"
We went shopping and got a new dress and shoes. Then she got it in her head that she wanted Daddy to give her a ring. I'm not sure all the back story of "why" it had to be a ring, but a ring it had to be. She was positive "Daddy " wanted to give her something special.  Therefore, we tried on every ring at Penny's and finally settled on a huge marquise cut "diamond" ring that cost $8.00 but was priceless!  Then she insisted she had to get Daddy a gift and it had to be a watch.  The only problem with that was every watch she liked was over $100.00 and after 10 minutes I was finally able to talk her into buying Daddy a tie that matched her dress.  (whew

)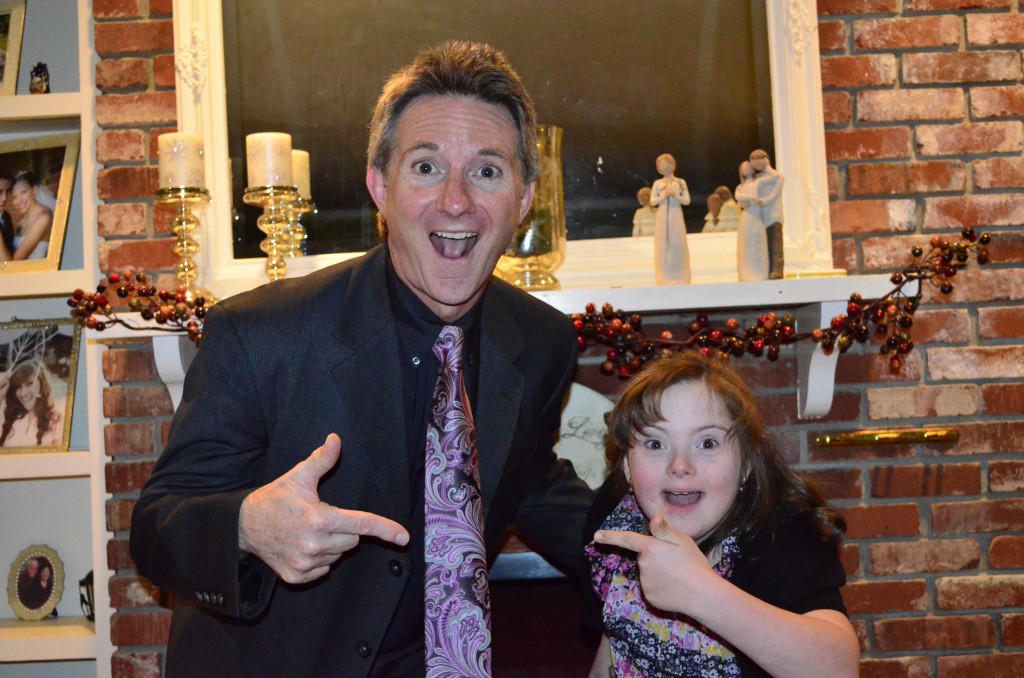 Next came the preparation- the luxurious bubble bath, foot massage, hair curling, little dab of make-up, pull on the hose, slide in the new dress and of course- pictures!  The energy from her anticipation was palpable.  "I going to dance with my Daddy tonight."  "It's Daddy and me- we're going to have fun."
I received 4 video clips on the phone that night, keeping me appraised of their celebration.  Jeff said he tried to give her  "the ring"  twice but she had a specific timing in mind. She finally told him during a dance, "NOW, Daddy.  Now, it's time to give me my ring."  They danced for two hours straight, laughing, enjoying the moment and each other, uninterrupted by phone calls, home work, or any responsibilities.  Pure delight!
I want to suggest to you that we all need to have the same heart desire as Bethany.  The desire to be with our "Daddy" all the time. 
Of course I'm speaking about our Heavenly Father and the main difference is we can actually enter His presence anytime, anywhere, for any reason.  We're the ones who have to learn to "clear our schedule" to go the Ball.  Our anticipation should be extreme, our preparation exciting, and the time spent uninterrupted.  When we're in the presence of our "Father", He showers us with the priceless gifts of His presence.  Maybe, just maybe, He views our choice to spend time with Him as our gift to Him.
A few months ago, I read The Parable of the Dancing God, by C. Baxter Kruger.  It's a MUST READ. It's the story of the Prodigal Son retold, only this time the focus of the story isn't on the sons but the heart of the Father!  How many of us truly understand the heart of our Heavenly Father?  A love so great, He chose to send His own Son to redeem us without a guarantee that we would love Him in return.  "He is a passionate Father who desires nothing from us except that we know His acceptance and delight, and he calls us to participate in the life and joy that the Father, Son and Spirit share together."  Jesus told us, "I have come that you might live and live life to the fullest."
He's inviting us to the dance!

Surprising Treasure:  Zephaniah 3:17- "For the LORD your God is living among you. He is a mighty Savior. He will take delight in you with gladness. With his love, he will calm all your fears. He will rejoice over you with joyful songs."