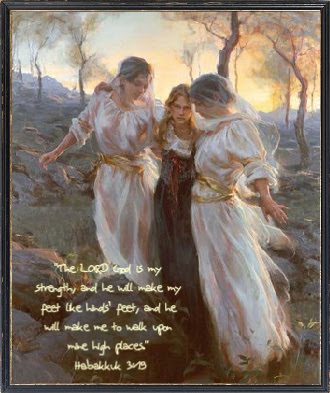 One of my favorite books of all time is by Hannah Hurnard' entititled "Hinds Feet on High Places." (this is truly a must read 🙂 )It's an allegory I can relate to every time I read it. The story is a triumphant tale of a "crippled" girl called Much Afraid, who desires to follow the Chief Shepherd- Jesus- to the High Places. Her journey is filled with pain, sorrow, suffering, and trials, yet it is precisely those things that transform her crippled feet to hind's feet so she can jump and leap in the mountains with ease and joy.
God uses mountains to transform and loft our perspective.
"Though the fig tree does not blossom, and there is no fruit on the vine, even if the product of the olive fails and the field yields no food, though the flock is cut off and there are no cattle in the stall,Yet will I rejoice in the Lord and the God of my salvation! The Lord God is my strength, my personal bravery, and my invincible army; He makes my feet like hind's feet and will make me walk (not to stand still in terror, but to walk) and make spiritual progress upon my high places (of trouble, suffering, or responsibility)! Habakkuk 3:17-19 Amplified Version
I am in awe that my husband Jeff, sons- Noah, Micah, and Josh- ruled climbing to the summit of Pike's Peak. I can't imagine making that 5 hour climb. (it would be a lot longer for me!) What an accomplishment! The climb itself was transforming. Unlike Sarah, Moriah, Bethany, and me, (who rode the cog train up and back) the guys braved the rocky terrain, the steep switchbacks, the thinning altitude, and unpredictable weather and snow storm at the peak. It was their "blood, sweat, and tears" that transformed them to "Conquerors of the Mountain". They earned that title while we merely rode up on the effort and sweat of somone who had labored to build the Cog rail.
We both arrived at the top but I know that our perception of our journey was different. The truth is, sometimes we have to scrap and struggle our way up the mountain, and other times, God lifts us up. I would dare say though, that while the view at the peak was the same for all of us, the EXPERIENCE was quite different.  "They" fought for the summit- they battled the elements- they endured hardship- and came out victorious!  That encourages me
Same Mountain- Different Journey!
There's something about looking down from the top of the world. My problems seemed to shrink as I gazed out to where the horizon meets the sky. I became aware of how small I was and realized the Creator of the Universe was holding the whole world- my little world- in His Hands.
When I have the right perspective, I will see things as God sees them.
I can allow myself to fixate on my situation, my loss, my hurt, my needs, my life. I can choose to wallow in fear and worry about how to solve my problems or change my circumstances.
OR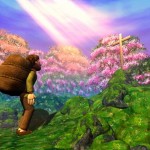 I can lift my eyes to the MAKER and MOVER of all mountains. I can lift my eyes to the One who suffered and died for me and is compassionate and understanding to everything I am going through. I can lift my eyes to Eternal One who is in control and holds every atom of the world together by His power! I can lift my eyes to the Healer who stands ready to transform me and heal my spirit from the sickness of sin!
What about you? What "mountains" has He put in your life to transform you or enlarge your vision of His awesomeness? If you look back 10 years, what are some ways you see He has changed you, strengthened you, or given you "hinds feet" to go upon the high places? 🙂



Surprising Treasure: "He makes my feet like hind's feet and will make me walk (not to stand still in terror, but to walk) and make spiritual progress upon my high places (of trouble, suffering, or responsibility)!
It all boils down to this simple spiritual truth: GOD IS GOD and I am not. Enjoy this song from Steven Curtis Chapman!
Hi, I'm Cindy- 36 years of livin' with my prince charming, Jeff. I'm a HOME MAKER- not a house wife! a Memory Maker, Proud Mama of 7; and Joyful Nana to 11 & counting! :)I love serving God with Jeff- who is a pastor. I long to shine bright for Jesus and I'm daily amazed by the depths of God's love.

I love reading, home schooling, encouraging others, playing the piano, worshiping, dating my husband, and planning parties and retreats for our clan.

Someday, I really, really want a horse and learn to play the cello and viola.
Latest posts by Cindy Barclay (see all)