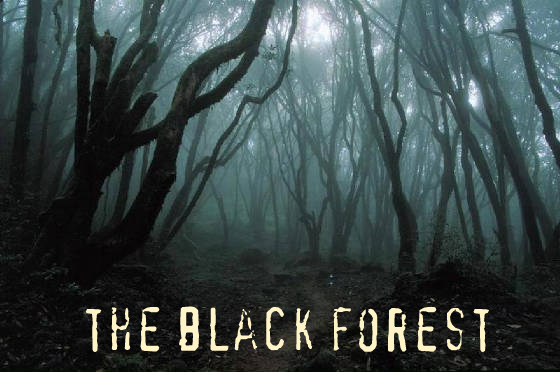 The dense growth of conifers blocks out most of the light inside the forest. Your eyes struggle to adjust to the dense surroundings. Cautiously, you feel your way forward, hoping to stumble upon the path that will take you out of the shroud of darkness and its isolation. Before you take another step, stop. Take a deep breath and let your eyes get accustomed to their surroundings. This path does not have many travelers and you are probably making your way forward alone. But there is One who will walk with you. He has walked in the Black Forest before and He will be your constant companion……
Jesus Will Meet You There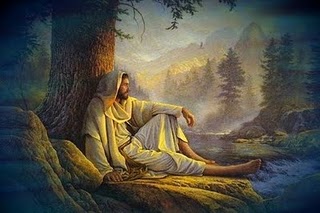 Steven Curtis Chapman wrote this song after they lost their little girl in a tragic accident. Truth and raw beauty pours out of this song. Jesus will meet us in our darkest times.
"if you fall into a darkness
no words can explain
and you don't know how you make it out alive
Jesus will meet you there."
Sadness is part of this fallen world. No one lives a perfectly happy life. People that try to put a positive spin on everything, talk positive, won't listen to anything negative, waste a lot of energy suppressing the feelings that come with loss and need. If you're sad- ACCEPT it. WORK through it. SHARE it with Jesus. OPEN up to others. Don't put on a mask of happiness. There is a time to mourn.   He understands.
The Bible tells us: "He was despised and rejected—a man of sorrows, acquainted with deepest grief.  Isaiah 53:5
HE IS THE SHEPHERD OF OUR SOUL AND WILL CARRY US CLOSE
AS WE TRAVEL IN THE BLACK FOREST.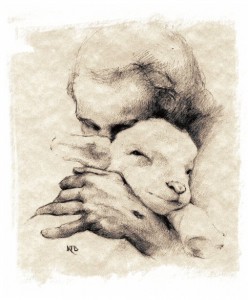 Jesus identifies with our weaknesses.
Jesus understands our fears.
Jesus realizes our limitations.
Jesus has compassion on our frailty.
Jesus shares our sorrows.
Jesus longs for the ultimate restoration of all things more than we do!!
This is the time to reach out for His hand, not push it away. Now is the time to search for the light and walk toward it step by step until He brings you out into the glorious light.
MY BLACK FOREST (after Kristin)
The first time I went in the Black Forest I got lost. I was too afraid to cry out for help. Too tired to do anything but stumble purposelessly, and trip on jagged roots along the way. Too proud to admit I needed directions and assistance. I refused to admit I kept walking around the same trail led me back to the beginning. I thought I was so self-reliant, so independent. After all, when something bad or sad had happened before, hadn't I always been able to "pull myself out of it?"
Our daughter had died. One daughter still lived. I had to snap out of it- pull it together- shake off this darkness…But I had one question.
How could I continue to be a mom and a wife when I had died too?
Make that a million questions.
Who was God? If He was my Heavenly Father, why hadn't He stopped that hideous cancer from destroying our daughter's life? Didn't Jesus say that if I had the faith the size of a grain of mustard seed, my prayers would be answered? Fear and doubt became my constant companions, whispering lies and confusion to my broken spirit.
"If mustard seed faith was all you needed to see her healed, and she wasn't- then maybe you really don't have faith in God at all. Maybe you're just a fake. The lies continued…."You prayed and fasted, you believed with all your heart and didn't doubt but look where it got you- she's dead. God didn't protect you or her. God does what He wants for whatever reasons He wants. You have no one to turn to- you're on your own!"
 This was the biggest lie the enemy of my soul planted in my heart- "You're all alone- you have no one to turn to- you're on your own!"
ONE OF THE BIGGEST LIES THAT WE COULD EVER BELIEVE IS THAT
GOD IS REMOVED AND UNTOUCHED BY OUR GRIEF AND OUR SUFFERING.
I put myself in a ridiculous position. I kept Him at arm's length as I wandered through the Black Forest. I couldn't read my Bible anymore- questioning if all the parts I'd underlined were true; the parts that talked about miracles. I couldn't pray anymore, it didn't matter what I wanted- God was obviously going to do what He was going to do no matter how much or little faith I had.
I SEE NOW I WAS SUPPOSED TO LEARN TO WALK
THROUGH THE DARK, HOLDING MY SHEPHERD'S HAND.
He wanted to be my guide. He wanted to walk through the pain and the confusion and the depression. Sadness and isolation had compounded the effects into full blown depression but I was in complete denial and naively kept myself isolated, keeping a "Christian Mask" on at all times. I didn't let Him come too close, but He was right behind me, watching over and longing to envelope me.
What precious time I wasted by choosing to keep the Lover of my Soul at arm's length.
After Bethany (our daughter with downs syndrome) was born, I visited the Black Forest again. I may have been out of the Cave of Confusion, but there was still a thick forest of "trees" (confusing information) that hindered me from being able to see the big picture; the "Grand Plan", so to speak. Of course, I wasn't ready to see the Master Plan- my mind was too weighed down.
This time, I ran to my guide and said, "You need to help me navigate through all these questions. Help me see what you want me to see. Help me not miss anything important." I couldn't see how in the world we were going to raise a child with a disability~ I wondered if she could ever live a fulfilling life!
That began my quest in the "forest". I would get up every morning at about 5:00 am, get my coffee, sit down at the computer and start googling. I googled everything from, "How to stop mental retardation" to "cutting edge treatment for people with downs syndrome". I was a mother on a mission. I was not going to let this "syndrome" do its worst to my daughter- not on my watch. I began to compile information and carry it out with Bethany.
Soon my days became driven by prayer, therapy, constant stimulation (ie- music, toys, interaction, singing, exercise) language modeling, nutrition and vitamins, you name it- I was determined to try it. Motivating me was the "nice" informative pamphlet our State gave parents when they had a child with downs syndrome. (NOT) Their negativity had the opposite effect on me. I just kept my head down, following the bread crumb trail of information, trying to glimpse the "big picture." I don't remember how long this went on. I just remember how anxious and edgy I began feeling, wondering if I was going to be able to do "enough."
Enough for what?
What was I hoping to do? What was behind my obsession? The forest began to come into view and I could better see where the path was leading. After I had researched and assimilated some basic information, the light of God's truth began to shine. I followed it out of the forest into green pastures.
The fact became clear that Bethany was a gift from God. Bethany was "Bethany". She was not "downs syndrome." She "had" downs syndrome.
It did not have to define her. Yes, she had limitations and challenges that I needed to address. BUT- I didn't have to worry about making her into something she wasn't, taking her to some elusive "level", or shaping her into something she couldn't be. The Serenity Prayer became my new guide.
I chose to accept the thing I could not change-
Bethany had downs syndrome until the resurrection day
I chose to keep researching and implementing every new and tried idea to help her achieve her potential
And I asked God to show me the difference.
The Serenity came with the realization that God was absolutely in control, AND that downs syndrome is a TEMPORARY CONDITION. Yes, she would have damaged DNA throughout her earthly life, but in eternity she would be completely whole.
Hi, I'm Cindy- 36 years of livin' with my prince charming, Jeff. I'm a HOME MAKER- not a house wife! a Memory Maker, Proud Mama of 7; and Joyful Nana to 11 & counting! :)I love serving God with Jeff- who is a pastor. I long to shine bright for Jesus and I'm daily amazed by the depths of God's love.

I love reading, home schooling, encouraging others, playing the piano, worshiping, dating my husband, and planning parties and retreats for our clan.

Someday, I really, really want a horse and learn to play the cello and viola.
Latest posts by Cindy Barclay (see all)